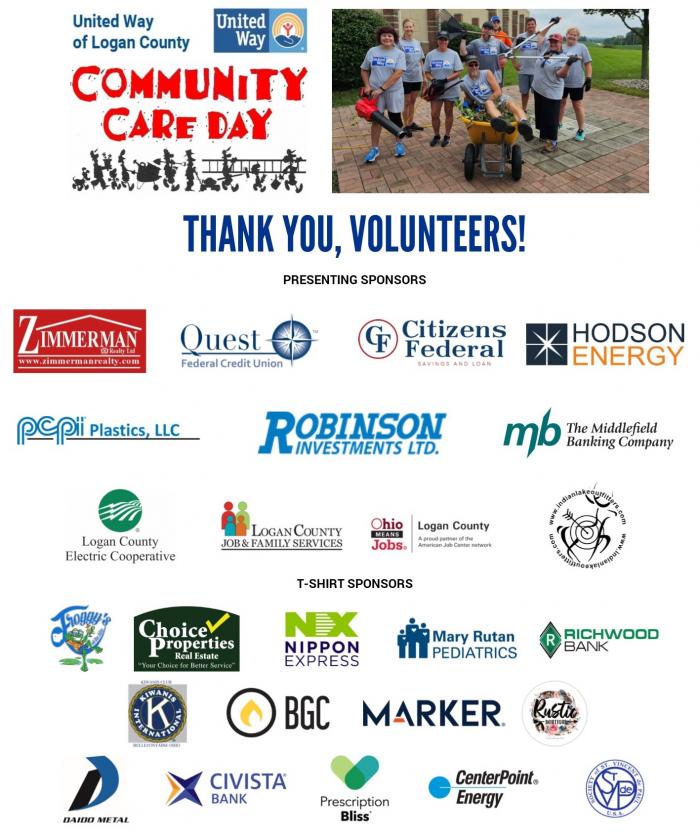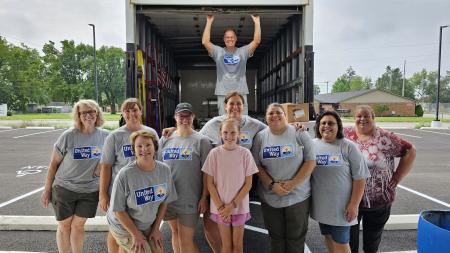 What a way to kickoff the 2023 Campaign with our 8th annual Community Care Day!  More than 300 volunteers representing 42  workplaces, schools, churches, and civic organizations gathered at the Bellefontaine Grace Church for breakfast, then out to serve in all four corners of Logan County!  THANKS SO MUCH to everyone who came out to show just how well Logan County LIVES UNITED!
IN BELLE CENTER
Students and teachers from Benjamin Logan did a deep clean at the Richland Township Building.
IN BELLEFONTAINE
Groups from Ag Resource Management and the Logan County Family Court teamed up to help Lutheran Community Services move equipment and supplies from their old location across from the Fire Station to their new location on West Sandusky Street.
The Bellefontaine Kiwanis Club completed landscaping and painting enhancements to the playground at the Little Learners Day Care Center.
The Bellefontaine Rotary Club cranked out a landscaping project at the Hilliker YMCA.
Staff from Citizens Federal Savings & Loan prepared two campaign mailings for United Way and painted a fence at the Logan County History Center.
One team from the City of Bellefontaine assembled mini-buildings for a new outdoor learning center for the Bellefontaine Preschool while another cleaned and organized a records room for RTC Services.
Volunteers from Community Health & Wellness Partners painted a swing set and picnic tables at Myrtle Park.
The crew from Logan County Electric Cooperative spent the day at Discovery Riders, deep cleaning the barn, pressure washing, and grooming the horses.
Staff from Logan County Family Court took clients from RTC Services fishing.
A team from Marker, Inc. did some outdoor staining, weeding, and pressure washing at TCN Behavioral Health's resident home.
Bankers from Middlefield Banking Company hung artwork through the hallways of TCN Behavioral Health's Bellefontaine office.
Volunteers from Open Road Renewables helped to sort and set-up clothing donations and some learning stations at Mac-A-Cheek Learning Center.
Staff from Prevention Awareness Support Services completed a painting project for the Soteria House domestic violence shelter.
Richwood Coffee provided beverages to all Care Day volunteers at the morning kickoff.
The team from Robinson Investments tore down and rebuilt dugout roofs at the ballfields of Ratliff Park.
RTC Services painted and did some spring cleaning at the Friendly Senior Center.
Six Hundred Downtown provided free pizza to all Care Day volunteers at lunch.
Members of the St. Vincent de Paul Society at St. Patrick Church provided free breakfast to all Care Day volunteers at the morning kickoff.
24 individuals donated the gift of life during the United Way Blood Drive for Community Blood Center.
IN DEGRAFF
A team from Farm Credit Mid-America painted the fire hydrants throughout the Village.
IN HUNTSVILLE
Workers from Logan County Children's Services painted picnic tables and bleachers at the Village Park and guardrails throughout the Village.
IN LAKEVIEW
A large group from Mary Rutan Health partnered with Indian Lake State Park on four projects, including painting restrooms, painting a fishing pier, maintenance of the archery range, and picnic table repair.
The team from the Mental Health Drug & Alcohol Services Board of Logan & Champaign Counties painted the living room for a homebound client of LifeCare Alliance.
IN QUINCY
AGC sent volunteers to "spring clean" the Village Hall and Annex Building.
IN RUSSELLS POINT
CenterPoint Energy's crew weeded and added pavers at the Sandy Beach Bridge.
Volunteers from Community Health & Wellness Partners cleaned out a wooded area the Municipal Park.
A team from Indian Lake Outfitters assembled a swing set at Point Village Apartments.
IN WEST LIBERTY
The team from Civista Bank cleaned street pole banners that recognize local veterans.
Daido Metal USA workers painted and landscaped at Lions Park to prep for the upcoming Labor Day Festival.
DMG Tool and Die and the Logan County Braves spent the day landscaping and spring cleaning at Adriel.
The office staff from the Logan County Chamber of Commerce did a spring cleaning and organizing project to help TCN Behavioral Health.
IN WEST MANSFIELD
The Benjamin Logan FFA sorted donations and cleaned at the Give & Take Thrift Store and Pantry.
IN ZANESFIELD
Students and teachers from Benjamin Logan completed painting projects at Kirkmont Center and helped seal fences and picnic tables at Jefferson Township Park.
THROUGHOUT LOGAN COUNTY
Teams from the Bellefontaine First United Methodist Church, Honestly Clean, NX Automotive Logistics, PCPI Plastics, and Richwood Bank helped sort the Stuff the Bus school supply drive donations and then delivered them to the area schools.
Groups from Belletech, Bridges Community Action, Hodson Energy, and Scotts Miracle-Gro delivered Meals-on-Wheels to homebound senior citizens via LifeCare Alliance.
The Logan County Department of Job & Family Services hung United Way posters in windows and businesses throughout the community.
Prescription Bliss staff and family members helped distribute food boxes to senior citizens via Second Harvest Food Bank.
IN URBANA
A duo from Logan County Family and Children First Council helped Caring Kitchen with some cleaning, organizing donations, and assembling backpacks for back to school.