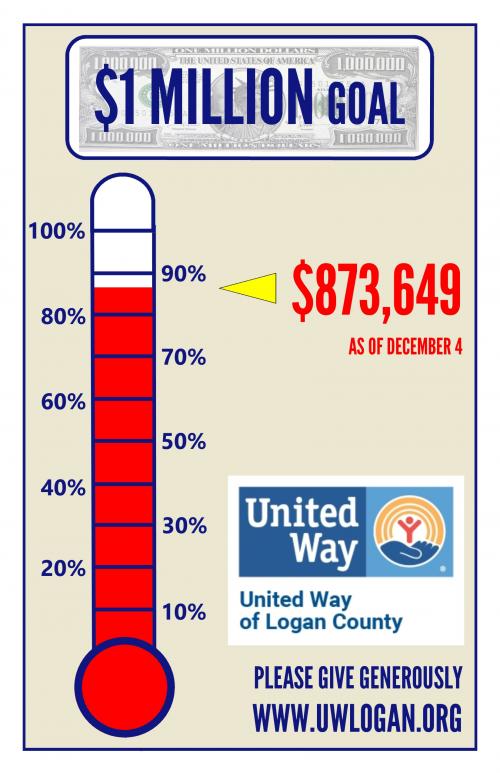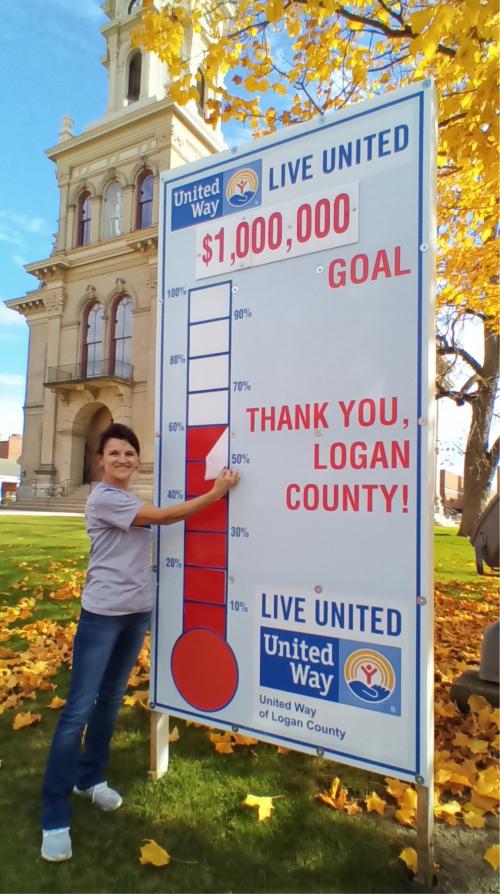 2023 CAMPAIGN KICKS OFF
2023 CAMPAIGN CHAIR
Brittany Saxton, Owner of Six Hundred Downtown, will serve as the 2023 United Way Campaign Chair. 
"It's super important to look at United Way when you think about giving in your community because it's such a hub of so many different organizations," Saxton says.  "There are so many impactful ways United Way really alleviates the stresses local families face, with insecurities about where necessities are coming from.  United Way is a resource where you can send anybody who is struggling in life, and it's a solution, or at least, a help to get to that bridge.  It's really nice to have that in our local community and know that so many facets of need are getting taken care of."
Click here to learn more about Brittany and her motivation to serve.
RUN A UNITED WAY WORKPLACE CAMPAIGN THIS FALL!
The idea of having a "United Fund" to support local needs spread to Logan County in 1955 when area business leaders joined together to offer a giving opportunity for their employees.  The tradition of giving via payroll deduction at work continues to this day and the annual United Way campaign is still the largest communitywide fundraiser in Logan County.  The workplace campaign is at the heart of that effort.  Today, more than 40 local workplaces participate, extending the giving opportunity to their employees and accounting for roughly 75 percent of our annual support. 
Learn more about WHY Logan County business leaders and CEO's choose to partner with United Way of Logan County to meet their corporate philanthropic goals.
WORKPLACE CAMPAIGN MATERIALS
Are you responsible for coordinating the United Way campaign in your workplace?  Know that YOUR role is critical and far-reaching, with the potential to impact thousands of lives in our community.  As a United Way Champion, you'll have an opportunity to showcase your leadership and project management skills at work, build camaraderie within your office, network with colleagues in other industries, and have fun.  All while helping us raise charitable dollars to achieve your company's philanthropic goals and further United Way's mission. 
Don't worry.  We're here to help!  Below are some on-demand links to our campaign materials.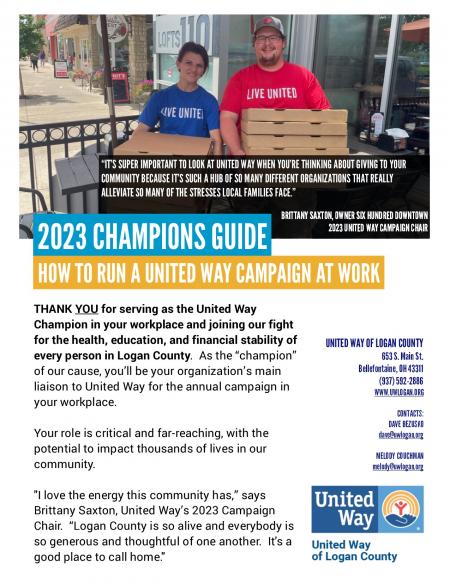 CHAMPIONS GUIDE - PDF.  Time-tested tips and new strategies for campaigning during COVID to help make your efforts a rousing success.
Employee Payroll Deduction Pledge Form - PDF to print on-demand.  Use this to obtain and document individual employee giving.  (WE RECOMMEND CUSTOMIZING YOUR PLEDGE FORMS.  Work with us in advance of your campaign to co-brand and maximize this opportunity.
Corporate Pledge Form - PDF to print on-demand.  Use this to obtain and document your corporate giving commitment.  
Posters - PDF to print on-demand.  OR call us at (937) 592-2886 and we can bring you enough 11x17 posters to promote your campaign in your workplace.  We can even customize posters with photos / messaging specific to your workplace.  
7-Foot Pop-up Banners - Call us at (937) 592-2886 and make arrangements to borrow one or more of our banners during the week of your workplace campaign.
2023 Agency Directory - link for a list of programs to which donors can designate.
Campaign Reporting Form - PDF - When your turn in pledge forms and donations, print and submit this form to summarize totals for our auditors.
"Funraisers" in the Workplace - PDF.  Fun ideas to supplement and enhance your internal UW campaign.