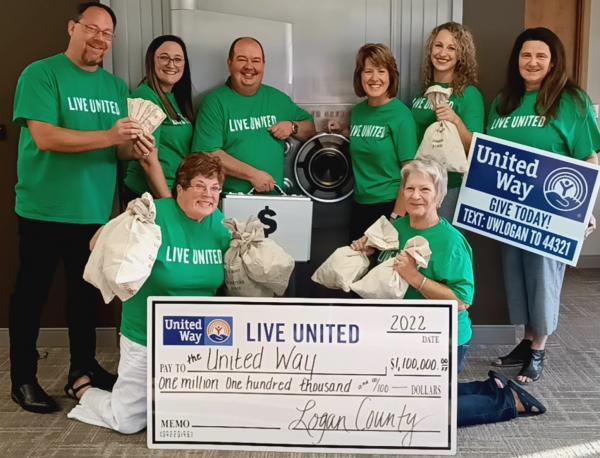 Champion, Watts, and Willoby to Co-Chair 68th annual campaign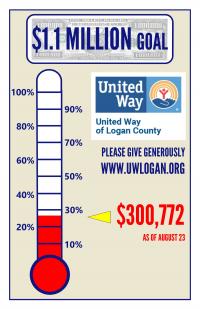 A trio of professionals from local financial institutions are teaming up to co-chair the 68th annual United Way of Logan County campaign, which kicks off Friday morning in Bellefontaine.
Carol Champion (Citizens Federal Savings & Loan, Executive Vice President & Treasurer), Bethany Watts (Richwood Bank, Logan County Development Officer), and David Willoby (Liberty National Bank, Assistant Vice President and CommercIal Lender) will lead the "Banker's Dozen" in an effort to raise $1.1 million this fall to advance United Way's fight for the health, education, and financial stability of every person in Logan County.  The play on words is a nod to the profession of several volunteers serving on this year's Campaign Cabinet.
"I am excited to be a part of this year's United Way Campaign "Banker's Dozen!" said Champion.  "I have been a lifelong resident of Logan County and have witnessed how United Way has impacted residents of our community.  More than ever, there is a growing need for the services United Way provides.  The fact that 93% of every dollar goes in to these programs and that the contributions remain local says a lot."   
Friday's kickoff commences at the Logan County Fairgrounds at 8:00 a.m. when more than 400 registered volunteers representing more than three dozen workplaces will gather for the organization's 7th annual Community Care Day corporate volunteer event.  After breakfast and a brief program, volunteers will disperse throughout the county to complete pre-coordinated group service projects.  
Logan County is the smallest community in Ohio to raise $1 million for its local United Way and will be attempting to surpass that mark for the fifth year in a row.  
A gift to United Way supports 46 programs of 28 Funded Agencies in Logan County.  For instance, Second Harvest Food Bank, Lutheran Community Services and LifeCare Alliance Meals-on-Wheels are on pace to serve more than 800,000 meals this year.  Providers of housing services report an emerging issue with homelessness, as statistics show a growing number of families lack basic shelter.  The Logan County Homeless Shelter is operating at capacity with a waiting list of 30.   Mental Health remains a concern.  Over the last 12 months, Recovery Zone provided more than 8,500 hours of peer support and employment services for people recovering from mental health diagnosis or addiction.  More than 1,800 preschoolers are enrolled in the Dolly Parton Imagination Library, receiving a free book each month to promote early childhood literacy.  Long-time staples such as the Bellefontaine Police Department, Discovery Riders, Green Hills Community, Logan County Cancer Society, Logan County Sheriff's Office, Warm Clothes for Kids, and the YMCA also receive annual United Way support.  The full program directory is available HERE. 
"I can't imagine that there are many people who don't interact with United Way or one of its agencies in regular day-to-day life, whether it's a food issue or their children are getting the Dolly Parton Imagination Library books," said Watts.  "I think that's amazingly impressive that one group can have that kind of impact on the county."
Joining Champion, Watts, and Willoby on the Banker's Dozen will be:  Emily Brown, Quest Federal Credit Union; Courtney Curtis, Huntington; Lydia Hess, Logan County Chamber of Commerce; Ashley Oakley, Logan County Electric Cooperative; Deb Orr, Mary Rutan Hospital; Cheryl Ryan, Buckeye State Bank; Jessica Simmons, Ameriprise Financial. 
68 percent of United Way's revenue comes via traditional workplace campaigns, where employers give their teams the opportunity to give via payroll deduction.  Anyone can give also give via payroll deduction at work, online at www.uwlogan.org, or by texting UWLOGAN to 44321.  
"It's a great opportunity to give back to a help lot of different people," said Willoby.  "You can help people who are certainly less fortunate and have been through harder times.  There's a lot of blessings we've all got in our lives and it's good to be able to give a little bit of time and money back to others who aren't as fortunate."
United Way fights for the health, education, and financial stability of everyone in Logan County.  It does so by facilitating successful agency partnerships that enable a safe, healthy, and caring community.  Since 1955, more than $27 million has been raised through United way to support the specific social service needs of Logan County, including a record $1,069,007 last year.  More than just a fundraiser, United Way collaborates with businesses, non-profits, government, and civic organizations to help meet the social service needs of the community.  For more information, call (937) 592-2886.
PHOTO:  Top row:  Dave Bezusko, Bethany Watts, David Willoby, Carol Champion, Ashley Oakley, Melody Couchman.  Botton row:  Deb Orr and Deb Baker.  Not pictured:  Emily Brown, Courtney Curtis, Lydia Hess, Cheryl Ryan, and Jessica Simmons.