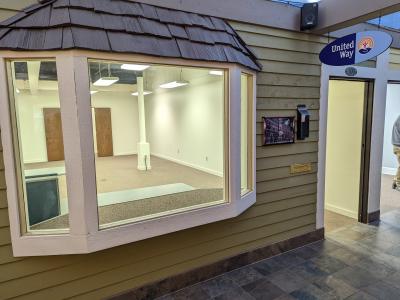 For a decade, United Way called the Marketplace, in downtown Bellefontaine, home.  One of the original Small Nation renovation projects, the "City Centre Mall" as it is sometimes known, served us well.  Our thanks to Jason Duff and the Small Nation team for their years of partnership and hospitality.  
This week, we mark the move into our NEW location at 653 S. Main Street (across from Wendy's) and we look forward to working with our new partners, Patrick and Jenna James, Tyler Thompson, and the team at P. Allan Properties.  
Our new space will enhance our operation.  It includes a conference room to conduct organizational meetings, private meeting rooms for confidential conversations with clients, individual offices for staff, a large parking lot, and signage on Main Street.  Better yet, as we are always mindful of keeping administrative expenses low, our overall monthly rent and utility costs actually decrease, thanks to the generosity of P. Allan Properties.
Stop by and check out our new digs when you have a chance.  And don't forget to change our address in your contact list.