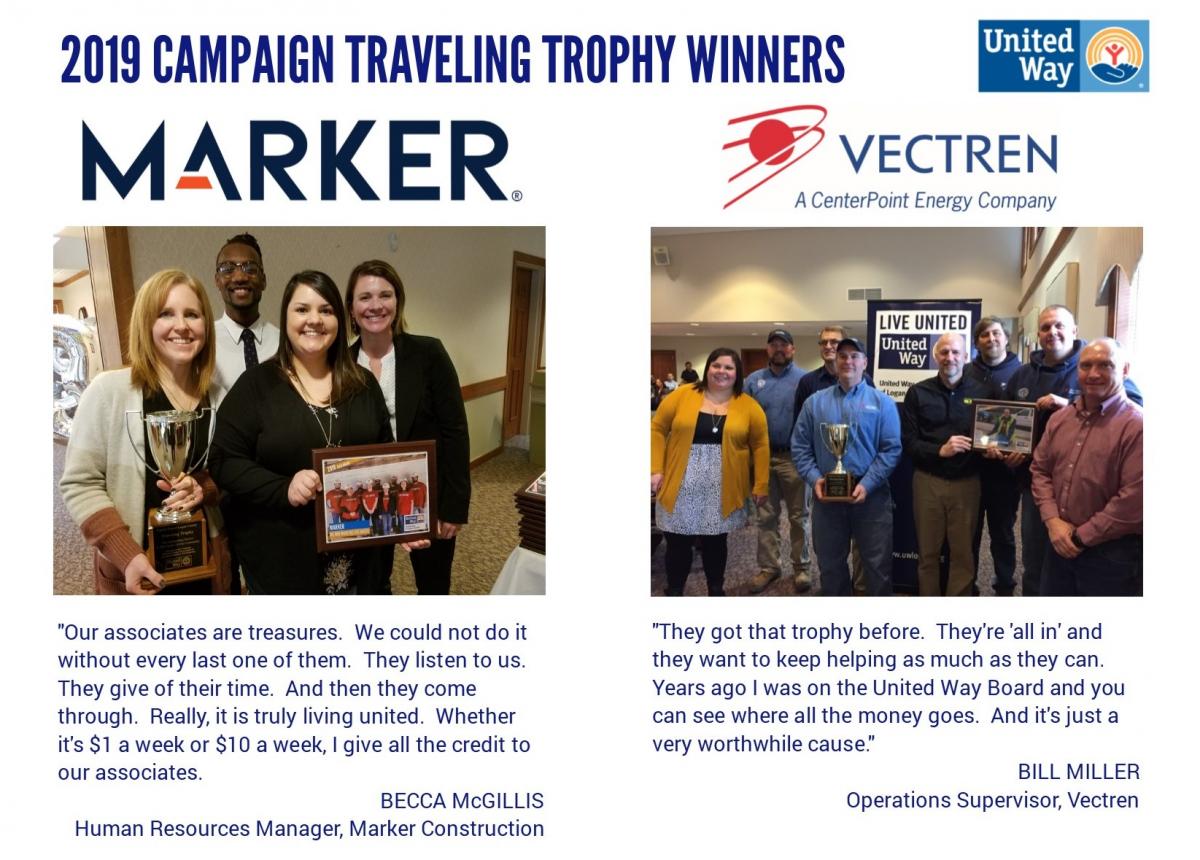 A sold out crowd gathered at Green Hills Foundation Hall in West Liberty Thursday to celebrate another record-setting United Way campaign at the organzation's LIVE UNITED Awards Luncheon.  $1,059,313 was pledged to the local non-profit in the 2019 campaign, marking the sixth consecutive year giving has surpassed the fundraising goal.  Logan County remains the smallest community in Ohio to achieve a $1 million United Way campaign, and it's now happened two years in a row.  
 
The countywide record was set with the help of record-level giving among local workplaces.  Marker Construction claimed one of the coveted Traveling Trophies, given to the workplace with the highest per capita giving, by shattering the all-time record for that statistic in the Large Business Division with a $501 per capita gift.  That resulted in a total associate and corporate pledge of $66,656, a $20,000 jump for the workplace, which was the largest this year. 
The Small Business Division Traveling Trophy isn't traveling anywhere after Vectren claimed the prize for the third straight year.  Likewise, they set a per capita giving record exceeding $1,700, with the small Bellefontaine office staff and corporate match totalling $13,946.
CLICK HERE TO WATCH / LISTEN TO COVERAGE FROM WPKO
CLICK HERE TO READ COVERAGE FROM THE BELLEFONTAINE EXAMINER
CLICK HERE TO SEE A PHOTO ALBUM FROM THE LIVE UNITED AWARDS
NEX Transport is the overall top-giving workplace, topping $200,000 for the second year in a row.  778 associates gave $147,293 via payroll deduction throughout the year and the company added a generous $52,961 gift at year-end.  $141,834 in associate and corporate giving from the annual Honda of America, Mfg. campaign is coming to Logan County.  AGC Automotive came in fourth this year, raising $51,668.  Mary Rutan Hospital is fifth, with giving at $46,535.       
"Thank you to all the people who championed their own workplace campaigns!" said Alison Marker, President of Marker Construction and 2019 Campaign Chair.  "I saw you, I saw the work you put in to organizing, incentivizing, and motivating the people in your company to give.  I saw your passion and the way you care about our community."
The following workplaces earned Gold Campaign Awards, achieving at least 60 percent employee participation, a $200 or higher average employee gift, or a 100 percent corporate match: 
AGC Automotive
Bellefontaine City Schools
Belletech Corporation
Choice Properties Real Estate
Citizens Federal Savings & Loan
City of Bellefontaine
Community Health & Wellness Partners
Daido Metal USA
Hill & Hamilton
Honda Transmission, Mfg;
Indian Lake Schools
Liberty National Bank
Logan County Auditor's Office
Logan County Board of DD
Logan County Department of Job & Family Services
Logan County Electric Cooperative
Logan County Family Court
Lutheran Community Services
Marker Construction
Mary Rutan Hospital
NetGain Information Systems
NEX Transport
Powerbuilt
Precision Custom Products
RTC Services
Smith, Smith, Montgomery & Chamberlain
Spartan Nash
Steve Austin's Auto Group
Thompson Dunlap & Heydinger
Transportation Research Center
Vectren
V-Teck Communications.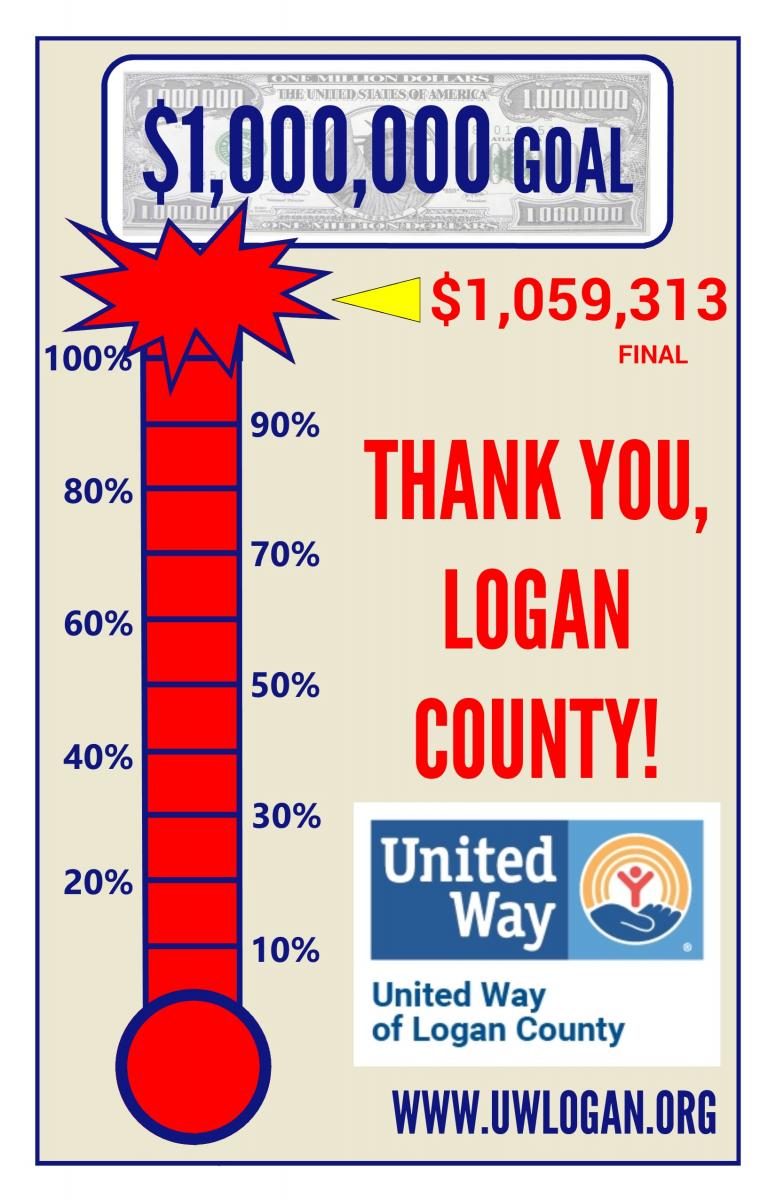 The following workplaces earned Silver Campaign Awards, achieving at least 50 percent employee participation or a $150 or higher average employee gift:
Honda of America, Mfg.
Logan County Children's Services
Logan County Commissioners' Office
Ohio Hi-Point Career Center
World Class Plastics.
The following workplaces earned Bronze Campaign Awards, achieving at least 40 percent employee participation or a $100 or higher average employee gift: 
Benjamin Logan Schools
Community Markets
Green Hills Community
Logan County Engineer's Office
McDonald's
West Liberty-Salem Schools. 
The following workplaces earned Good Neighbor Awards, given to select entities that participate with United Way but do not qualify for a Campaign Award: 
American Solutions for Business
Bellefontaine Examiner
Civista Bank
Humble Construction
Lewis & Dorothy Tamplin Trust
Logan Acres
Logan County Health District
Logan County Sheriff's Office
Midwest Regional ESC
P. Allan Properties
Quest Federal Credit Union
Riverside Schools
Robinson Investments
RV Wholesalers
Shine FM
Walmart. 
United Way's local Campaign totals have increased seven straight years from 2012 to 2018 for a 67% increase in annual giving.
2011:  $622,411
2012:  $663,401
2013:  $677,860
2014:  $700,689
2015:  $725,268
2016:  $830,199
2017:  $951,806
2018:  $1,038,555
2019:  $1,059,313