United Way's two Traveling Trophies are returning to familiar display cases this year.  Marker, Inc. has won the award for second consecutive year in the Large Business Division.  Precision Custom Products claimed back the prize for the Small Business Division, having most recently won it in 2016.  
The Traveling Trophies, United Way's most prestigious recognition of corporate philanthropic achievement, are awarded to Logan County workplaces with the highest giving per capita. 
Marker set a new bar in that category for the Large Business Division, with a $594 per capita gift.  Their staff of 130 raised a whopping $77,250 when combined with a 100% corporate match.  Marker has raised over a quarter of a million dollars for United Way over the last five years!
"We have the best associates working for us and it can't happen unless all of us come together," said Becca McGillis, Human Resources Manager at Marker, Inc.  "I am thrilled beyond measure.  They never fail.  Every year, they just knock it out of the park and they do such a great job and we're so proud of our associates.  It wouldn't be this way if it weren't for our leadership and their generosity to match our money to make our dollars go farther."   
At Precision Custom Products, their staff of 29 employees raised a workplace record $37,508 when combined with a 100% corporate match, good for a $1,293 per capita gift.
"We have a real dedicated group of people here and the concept of United Way registers really well with us and our associates," said Jim Kerg, Owner of PCPI.  "I've been affiliated with United Way all the way back to the early 1980's.  I served as a Campaign Chairman in neighboring Shelby County and served on the Board for almost 10 years.  I'm a big believer in it.  And we have a team here that has infused this concept with our associates over an extended period of time. Managagement turns to associates and says we're all in, how about you guys, and they sure answer that every year.  So we're proud and tickled to be a part of this in support of our community here in Logan County."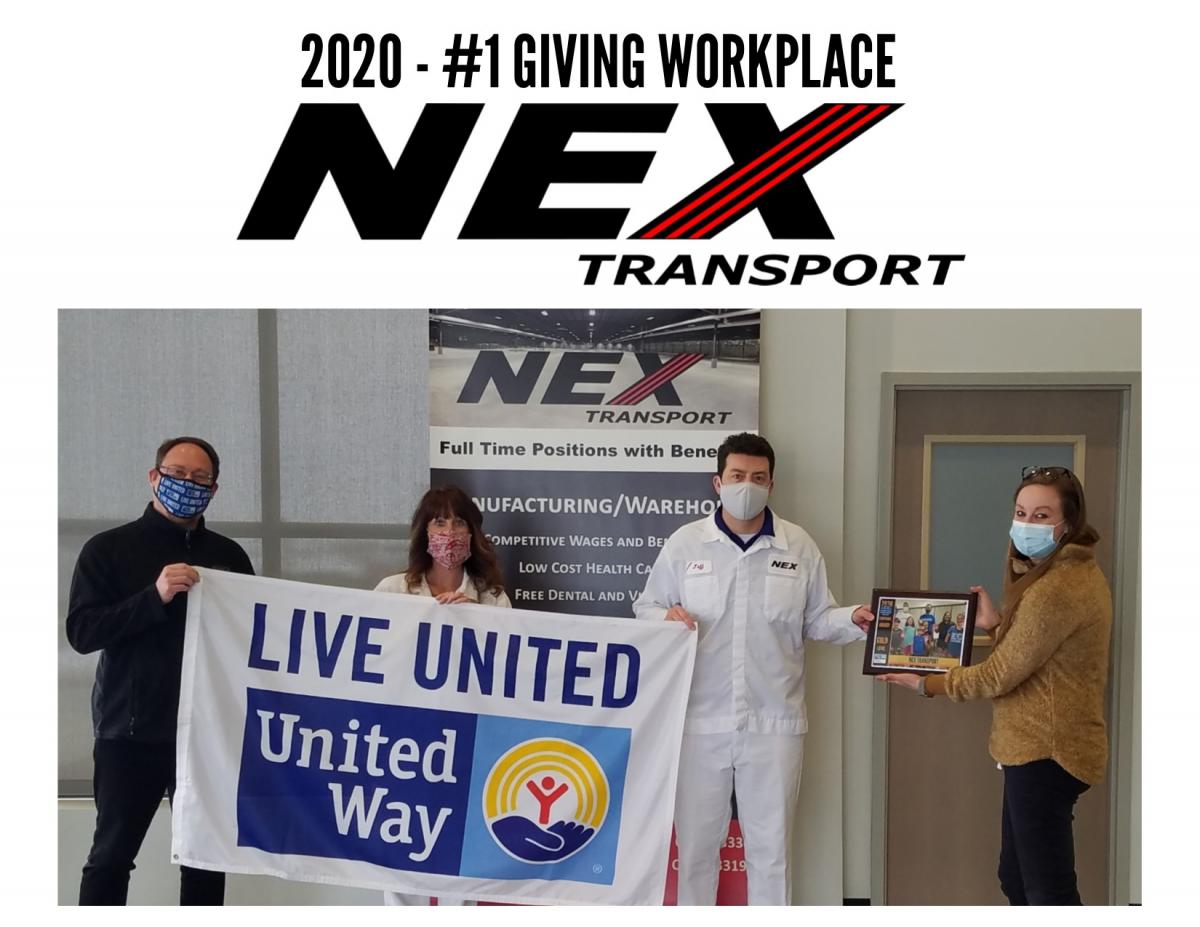 NEX Transport is the overall top-giving workplace for the third year in a row, checking in with a combined associate and corporate gifts of $143,047.  $140,346 in associate and corporate giving from the annual Honda of America, Mfg. campaign is coming to Logan County.  Mary Rutan Hospital came in fourth this year, raising $42,186.  Honda Transmission is fifth, with giving at $40,281.   
The following workplaces earned Gold Campaign Awards, achieving at least 60 percent employee participation, a $200 or higher average employee gift, or a 100 percent corporate match: 
Bellefontaine City Schools
Belletech Corporation
Choice Properties Real Estate
Citizens Federal Savings & Loan
City of Bellefontaine
Civista Bank
CoverLink Insurance
Honda of America, Mfg.;
Liberty National Bank
Logan County Chamber of Commerce
Logan County Electric Cooperative
Lutheran Community Services
Marker, Inc.
Mary Rutan Hospital
NetGain Information Systems
NEX Transport
PowerBuilt
Precision Custom Products
Riverside Local Schools
Smith Smith Montgomery & Chamberlain
Steve Austin's Auto Group
Thompson Dunlap & Heydinger
Vectren, a CenterPoint Energy Company
V-Teck Communications
Zimmerman Realty
The following workplaces earned Silver Campaign Awards, achieving at least 50 percent employee participation or a $150 or higher average employee gift: 
AGC Automotive
Benjamin Logan Schools
Community Health & Wellness Partners
Indian Lake Local Schools
Logan County Government Employees
RTC Industries
The following workplaces earned Bronze Campaign Awards, achieving at least 40 percent employee participation or a $100 or higher average employee gift:
Green Hills Community
Midwest Regional Educational Service Center
West Liberty-Salem Schools
The following workplaces earned Good Neighbor Awards, given to select entities that participate with United Way but do not qualify for a Campaign Award:
Angles Nursery & Landscaping
Daido Metal, USA
Honda Transmission, Mfg.
Humble Construction
Midwest Corporate Air
Ohio Hi-Point Career Center
Robinson Investments
RV Wholesalers
Scott Family McDonald's
World Class Plastics
In lieu of an annual celebration gathering, United Way volunteers delivered awards to each individual workplace over the last month.  Visit our
Facebook page
to see photos of more Award Presentations and search #UWLOCOMILLIONDOLLARMOMENT for pics posted by businesses themselves.
Since 1955, United Way of Logan County has raised more than $25 million to support the specific social service needs of our community.  With the money, United Way fights for the education, health, and financial stability of every person in Logan County.  51 programs of 33 Funded Agencies are being supported in 2021 by United Way allocations.