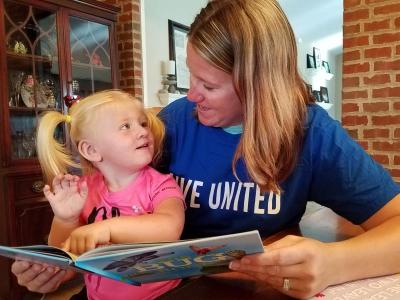 A LIBRARY OF UP TO 60 FREE BOOKS FOR YOUR CHILD
Dolly Parton Imagination Library is an early childhood literacy program that mails a FREE BOOK every month to children under the age of five.  The program encourages a love and interest in reading and increases vocabulary and comprehension skills.  It also encourages family interaction.  Children look forward to receiving their book in the mail and make memories with parents, grandparents, and older siblings who read with them.  What can be better than snuggling up next to Mom or Dad on the couch or laying down for a bedtime story?   
FOUNDED BY DOLLY PARTON HERSELF
What was your favorite book growing up?  Maybe it was Green Eggs and Ham.  Mike Mulligan and His Steam Shovel.  The Little Red Caboose.  For Dolly, it was The Little Engine that Could.  She was inspired by her hard-working father who could not read, yet provided for her and her family.  Dolly wanted to honor her father and make sure that no child would grow up without having basic literacy skills.  So she started the Dolly Parton Imagination Library in her hometown of Sevierville, Tennessee in 1995.  The program has since spread across the country and around the world.  The first book every child receives is The Little Engine that Could.  Then, an age-appropriate book will arrive in the mail every month until the child turns five.
IN LOGAN COUNTY...
United Way of Logan County became a local affiliate to bring Imagination Library to Logan County in 2016 with the help of local donors and corporate partners.  The first books were mailed in January, 2017.  Since then, 133,893 books have been mailed to 4,258 preschoolers.  We've invested $167,346 in this early childhood literacy program.  In 2019, we partnered with the Ohio Governor's Imagination Library, which was inspired by Ohio First Lady Fran DeWine's passion to improve the lives of Ohio's children to expand the program statewide. An additional $106,589 has been leveraged by United Way from the State funds to support Logan County's program.  
It's working!  In 2021 after the program had been established for four years, we reached out to local elementary schools to gauge the impact it is having on early childhood literacy.  Our studies showed that Logan County children who received Dolly Parton Imagination Library books growing up scored 21 percent better on their Kindergarten Readiness Assessments than children who did not!